Portfolio » Case Studies » The Visulite Theatre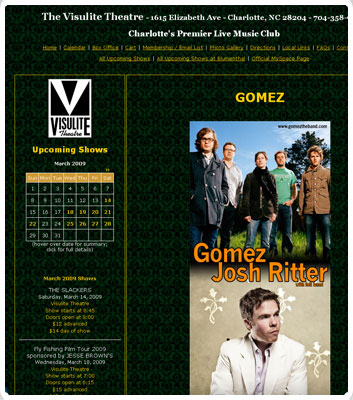 Services Performed
A Will Call Nightmare
One of the biggest problems with running a concert promotion and nightclub website is keeping track of all of the Will Call tickets. The Visulite Theater in Charlotte, NC was no exception. Its old website could handle static concert promotion tasks well enough, but was no help in handling the ongoing challenge of efficiently keeping track of who bought what tickets when. Concert night, already a time of bustling activity, became a nightmare of shuffling multiple lists.
CMS Site Turns Up the Volume
The Visulite Theater's original website was static - one very, very long page featuring information on upcoming shows. It got the job done, but was very difficult to find the information you needed quickly. With the custom CMS (Content Management System), the ability to add shows, sell tickets, and promote events makes the new site a true e-commerce business. Now a true self-service site, the owner can change the content at will without having to wait or pay for a designer to make revisions.
Custom Database Makes Will Call a Snap
Accessible Computing® created a custom database that eliminated countless hours of data entry and a flurry of paper lists. Tickets sold, membership applications, and Will Call list details are all just a click away now, freeing Bernie Brown to keep the box office bustling and the house packed.
A process that once took hours now takes only minutes, thanks to the new website design. With the new site, it takes only minutes to pull up a ticket order or to have a Will Call list.
"I would recommend Accessible Computing® to any company that needs to track specific data threads efficiently. They customize solutions to specific problems and work in a timely and organized manner," Brown said.
A Seamless Box Office Experience
Customers can now browse upcoming shows, buy multiple tickets, update their carts, check out securely, and even generate a receipt and be added to the Will Call list... All quickly and easily, now that the website runs on auto-pilot.
If managing your company's website content and data more cost-effectively and efficiently would make a difference to your profitability, then contact Accessible Computing® to request your Free Consultation.