Services » Custom Application Development » Content Management Systems (CMS)
If you can use Microsoft Word, or any other word processor,
you can use a CMS.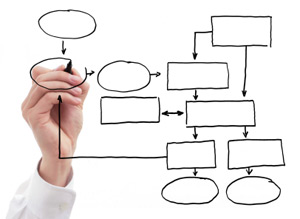 A content management system (CMS) enables you to create, modify and publish website content without the need to learn HTML. You can add, change and remove content in just minutes. No technical knowledge or programming skills needed. A CMS puts you in complete control of your website's content.
When we refer to content, we mean any type of information you could ever want to publish to your site. We can custom build a CMS that will enable you to upload videos, graphics, documents and just about any other type of digital information you can think of.
If your content isn't fresh,
what reason do visitors have to return to your site?
A reliable, user-friendly content management system is critical for a business whose website requires constant updates. If you have to rely on your webmaster to make every tiny change, your content can quickly become stale. Our team of experienced CMS developers will build you the system you need to keep your website dynamic - which will keep your customers coming back for more. Wondering how a CMS could help your business? Request a free consultation and find out.
You're in the driver's seat, which is exactly where a business owner belongs.
Time is money in business - we'll help make sure that you can manage your content quickly and efficiently. Updates and changes can pile up on a web developer's desk. No matter how good your developer is, it can be hard to keep up with the demands of a thriving online business. With a CMS, the growth of your business will never be hindered by waiting around for simple changes to your site.
One of the best things about a content management system is that you can access it from anywhere. As long as you have an Internet connection, you can manage the content of your site. Running a business is more than a 9 to 5 job. To take advantage of every opportunity, you must be able to access your information anywhere at any time.
Start saving money!
Content management systems save you money. You'll be able to handle much of your website's content all on your own, saving you additional development and website management costs. Why continue to rack up these unnecessary expenses when the technology you need is ready and waiting to be developed especially for you and your business?
Finally, you can integrate content seamlessly and effortlessly.
Your customized CMS will also encourage teamwork. Authorized team members can create, share and publish content, allowing you to focus on other tasks. Your PR expert can keep your press kit up-to-date. Your copywriters can modify your content for maximum search engine optimization. Everyone can do their job quickly and easily.
Your CMS will give you greater flexibility than ever before in delegating content-related responsibilities.
Once you have your custom-developed CMS, you'll wonder how you ever lived without it.
Don't spend a second of your time learning complex coding. Let us create a CMS interface that is intuitive and requires no in-depth IT knowledge. You also won't waste time learning how to navigate features you don't need because your custom CMS will include only the tools your business requires.
Ready to save time and effort in your business? Request more information to learn more about our custom content management systems.