Services » Custom Application Development » Customer Relationship Management (CRM)
What Is Customer Relationship Management?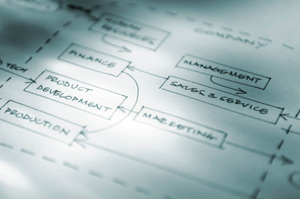 Customer relationship management (CRM) is a term that encompasses all of the software, programs, methods and processes you use to manage information about your customers. The purpose of retaining this information is to use it in a way that enhances your customer relations and brings in more profit for your business.
Detailed data about your customers isn't of much use if it's not maintained in a logical, organized way. A CRM solution makes it easy to find the information you need so that you can put it to strategic use.
Your CRM solution should be based on your goals.
At Accessible Computing®, we develop and implement customer relationship management solutions customized for your individual needs. By articulating your goals and assessing your current business model, together we can determine how best to organize your customer data. We will then create a CRM system that enables you to access and analyze information in a way that's simple and effective. We know your business has unique CRM needs, so we offer a free consultation to help you get started.
Customer relationship management is a team effort.
For most companies, customer information will need to be accessed by a number of employees, each with a different role in the business. Salespeople, for example, will want to know what purchases a customer made in the past so they can approach them with special offers. Your marketing gurus will need to analyze your customer demographics to create the right ads.
With our years of experience in CRM systems, we know how to build a custom solution that's widely accessible. It's key that your system is easy to use and easy to understand. The more people who will be using the customer relationship management software, the more simple and customized it must be.
Your CRM solution from Accessible Computing® will also ensure that all of your valuable data is in one centralized location. In today's world of ecommerce, your employees may be spread out across the nation. A central, systematic approach to data management puts everyone on the same page.
There's no limit to what your CRM solution can do when you work with Accessible Computing®.
There are plenty of companies out there selling one-size-fits-all CRM solutions. Purchasing this software, however, forces you to make choices that limit the ways in which you can use your customer data. For instance, many commercial CRM solutions are geared towards a specific sector, such as sales or marketing. Accessible Computing® creates custom CRM solutions that enable you to use customer data for as many purposes as you see fit. You don't have to sacrifice function A in order to have function B.
Start putting all of that customer data to work for you. In it lies many opportunities for you to unearth. Request more information to find out more about our customer relationship management solutions.