Services » Consultant Services » General Business Consulting
Your Dedicated E-Commerce Expert On-Call...
Without the Expenses of Having One In-House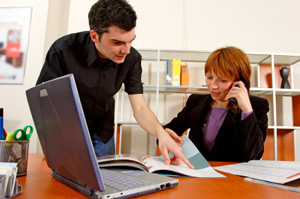 Cutting edge technology keeps you competitive in the world of ecommerce. For businesses without an in-house E-Commerce Expert, however, it can be hard to know where to start. What should I include in my website? What is Pay-Per-Click (PPC) advertising? Will I have to learn HTML?
If you've got lots of questions about websites and online stores, you're not alone. Accessible Computing® offers general business consulting because we understand the challenges businesses face in selecting and implementing website solutions.
Through our general business consulting, we make sure technology becomes your business's core asset rather than a source of frustration.
Your website solutions are a valuable - and critical - corporate asset. Accessible Computing® offers expert guidance to help ensure that you're making the right website investments. Our goal is to help you get the best possible return on your investment (ROI). We can work with you in establishing short-term goals as well as long-range plans for implementing custom website solutions, such as Customer Relationship Management (CRM) systems and databases.
High-performance technology improves performance, boosts sales and saves time.
Get a jump start on your business consulting with one of our free reports. See how your website stacks up in terms of speed, accessibility and search engine visibility. All you have to do is fill out the Request for More Information form.
As part of our general consulting, we also offer guidance on Internet Marketing, Search Engine Optimization (SEO). In the world of e-commerce, there are hardly three more important letters than SEO. Accessible Computing® can break down the concepts of Search Engine Marketing (SEM) into simple terms. We can explain the various techniques used for optimizing and promoting a website, such as developing keyword rich content and Pay-Per-Click (PPC) advertising.
Of course, we do much more than just consult!
Accessible Computing® offers a full range of website design and development services, including custom applications such as Content Management Systems (CMS) and shopping carts. Once you know what you want, you don't have to seek out a web development company - you've already got one!
Be sure to check out our case studies to see how Accessible Computing® has become a virtual in-house e-commerce department for many of our clients. Our clients rely on our experience and trust our advice. Accessible Computing® can advise you on the technology you need in order to achieve your business goals. It all starts with a no charge, no obligation phone consultation - just complete the Request for More Information form.