Services » Internet Marketing » Search Engine Optimization (SEO)
The success of your website depends on high visibility in search engine results.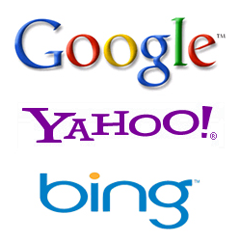 No doubt you've seen the numbers. Various studies have shown that anywhere from 70% to 85% of Internet users start with search engines to find what they want. It's an oft-repeated stat for a reason. The importance of Search Engine Optimization (SEO) cannot be denied.
Websites don't automatically appear in search engine results. Your website must first be submitted to directories, which is the easy part. The challenge lies in getting your site on that all-important first page of results. To make that happen, you need search engine optimization (SEO).
The magnitude of search engine optimization is self-evident. The last time you performed an online search, how many pages of results did you view? If your search habits are like those of most Internet users, you didn't look past the first or second page.
The good news is that you don't have to settle for anything less than
a top search engine ranking.
What does that mean for a website on page 3, 4, 5 or higher? It means that site is as good as invisible. With our comprehensive approach to SEO, your site can go from bottom of the list to king of the hill. Our SEO program will get you the ranking you need for a steady, reliable stream of visitors to your website. Ask how we can turn on this stream of traffic.
Search engine optimization calls for the services of an expert.
Search engine optimization is a time-consuming process. Unfortunately, that time is often wasted if the individual performing the work isn't knowledgeable about SEO practices. Rather than spend your valuable resources trying to navigate the tricky waters of search engine algorithms, you can outsource your SEO needs to us. Your website moves up the search engine rankings, and you are free to devote your energy to doing what you do best.
The Internet is an evolving world - are you staying ahead of the times?
Major search engines such as Google are constantly changing their algorithms. Their goal is to provide search engine users with relevant, quality results. To achieve this goal, search engines frequently have to fine tune their indexing methods. At Accessible Computing®, we stay up-to-date on these changes so you don't have to.
A successful SEO campaign requires thoughtful planning.
We will work side-by-side with your business to determine your goals and objectives. To optimize your website, we must first analyze your website. We will review your website's structure, design and functionality. This analysis enables us to detect your website's search engine weaknesses so they can be corrected.
Only then do we create a detailed action plan and timetable for optimizing your website. Open communication with our clients is important to us. The action plan and timetable are designed to show you, step-by-step, how we will transform your website into a search engine powerhouse. This is your website. We believe that you should be informed of the process every step of the way.
When the SEO plan we create for you is up and running,
you'll see more visits, more sales and more profits.
Search engines are looking for unique, quality content. At Accessible Computing®, we have years of experience with developing killer website content. We work with talented, professional copywriters to deliver content that is clear, compelling and rich in keywords. We guarantee that your website will stand apart from the competition.
As they always say, SEO is a marathon, not a sprint.
But we don't stop there. SEO programs need continual monitoring. Content, for instance, may need to be changed in response to adjustments in search engine algorithms. In addition to your own website, you have to know what is happening with your competitors as well. Accessible Computing® provides you with ongoing support. We want to ensure that your website continues to move up the ranks of the search engine results pages.
We look forward to speaking with you about the many benefits of our SEO programs. Request more information today to learn what Accessible Computing® can do for you.