Services » Internet Marketing » Pay-Per-Click Advertising (PPC)
Pay-Per-Click advertising complements your search engine optimization campaign.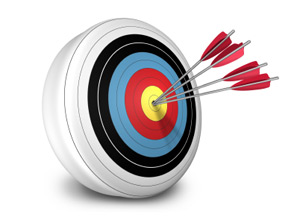 When it comes to Search Engine Marketing (SEM), there is a clear distinction between organic search results and Pay-Per-Click (PPC) advertising. Organic search results are the listings that appear within the results pages themselves. A top rank in organic search results cannot be bought. Rather, you work your way to the top by having a quality site and by utilizing Search Engine Optimization (SEO).
Pay-Per-Click ads are (typically) the listings you see above the organic search results and in a column on the right hand side of the page. Websites pay a certain amount of money to have their site listed in these sponsored links sections when an Internet user searches for a specific word or phrase.
How does PPC work?
Pay-Per-Click advertising is based on a bidding process. You decide how much you are willing to pay for a given keyword or keyword phrase. Other websites may bid on those keywords and phrases as well, and their bids may be higher or lower than yours. The order in which the search results are listed is based on the amount of your bid - the more you pay, the higher up you are in the results.
Start seeing an instant boost in website traffic.
Pay-Per-Click advertising offers several advantages. The first, and perhaps most important, is the immediate visibility. Search engine optimization takes time. You don't see results overnight. With Pay-Per-Click advertising, on the other hand, your website will show up in search listings within mere minutes of placing your bids. It can be a very effective way to start attracting visitors to your website.
PPC offers an excellent return on your investment.
Another major advantage of Pay-Per-Click advertising is that it is a budget-friendly process. You determine the maximum amount you want to pay for each keyword or phrase. You set a cap on how much you're willing to spend each day. Plus, you only pay if someone clicks on your ad.
With a newspaper ad or television commercial, you pay regardless of whether the ad generates any business. PPC is just the opposite. You're only charged for the ad when it converts into a visitor.
Let us develop, implement and manage your customized PPC campaign.
To get started, just request a free consultation
While the concept of PPC is simple, running a successful campaign takes skills and experience. Accessible Computing® has the experience and know-how to develop and manage a PPC campaign that will deliver targeted traffic to your site.
Accessible Computing® understands the way Internet users search, and we can help you select the right keywords. We can also keep your PPC campaign cost-effective by helping you place the right bids. With our expertise, you will never get caught up in a keyword bidding war that will waste valuable advertising dollars.
We are intimately familiar with all of the major PPC programs, such as Google AdWords, Yahoo! Search Marketing, and MSN/Live AdCenter. We keep up with changes to their systems so you don't have to. We analyze your PPC traffic to see which words are working and which aren't. We can help you refine your keyword phrases to connect with the exact type of customer you're looking for. All you have to do is enjoy the fruits of your successful PPC campaign.
To learn more about Pay-Per-Click advertising and how Accessible Computing® can create and manage your winning campaign, request more information today.